Platform Features
The Hydra Marketplace offers the best aspects of fund and managed account access to tactical trading strategies and liquid alternative investments.
        BENEFITS OF A FUND STRUCTURE
Limited liability
Reporting efficiencies
Third party administration
Independent verification of assets
Independent verification of performance;
No swaps based counterparty risks
Lower minimum investments
        BENEFITS OF A MANAGED ACCOUNT
Full daily transparency into account exposures, sectors, P&L reporting
Custom reporting ability at account, sector and manager levels
Customized gearing/cash efficiencies of notional funding
Better liquidity terms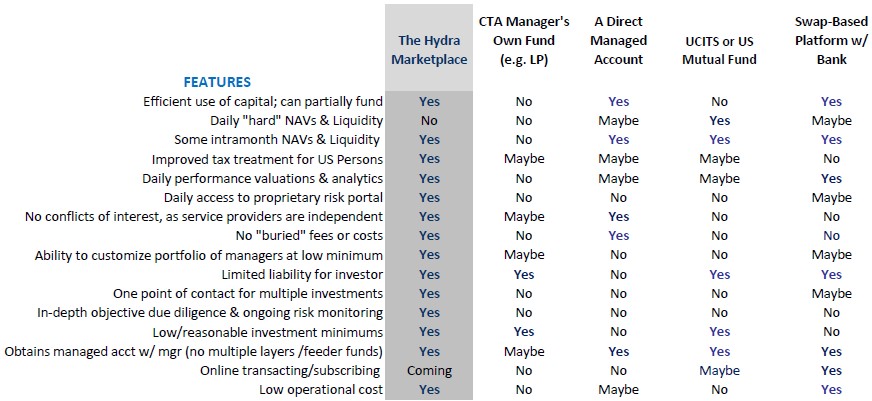 Alternative Investment Universe:
The Hydra marketplace provides QEP investors access to a diverse curated array of strategies that offer a path to an overall portfolio hedge with liquidity and transparency. These liquid alternative strategies aim to be sources of absolute returns.
Portfolio Strategy: Managed Futures as a source of non-correlated diversification from equity and fixed income asset classes.
Liquidity: Unlike private equity and real estate the liquid alternatives strategies markets are liquid and transparent.